Does your company produce or sell cannabis-based products in Canada? Canada legalized the sale of cannabis and cannabis-derived products in 2019. Since then, myriad companies of all sizes in the agrifood and cosmetics industry have decided to pierce this profitable market. In fact, cannabis has contributed $43.5 billion to Canada's GDP between 2019 and the end of 20211.
However, companies need to keep in mind that cannabis is subject to stringent regulations to ensure the safety of consumers and that they will need to navigate complex regulations to package and label their cannabis products. The experts at IMS have written this practical guide to help you find the best packaging solutions for your cannabis products!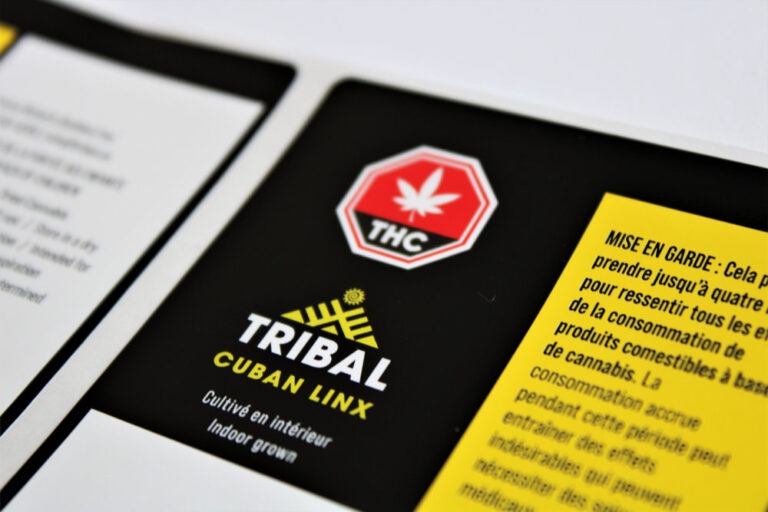 Requirements and regulations for packaging cannabis products
Unlike our neighbours to the south, where products in states that have legalized cannabis can feature all sorts of eye-catching designs, Canada has implemented very strict regulations when it comes to packaging. The government, more specifically Health Canada, requires that the packaging on cannabis products be clear-cut, neutral, and accurate. Furthermore, labels must be printed in both English and French. Finally, certain elements and information must be visible on the packaging.
What needs to be featured on packages of cannabis products?
Standardized Canadian cannabis symbol
Brand name or logo
Excise stamp depending on the province or territory
Label with the quantity of THC and CBD upon purchase and once activated
Label with the health warning on a yellow background
Label with additional information: type of cannabis, weight, storage conditions, company contact information, etc.
If edible, label with the nutrition facts
Labels with the list of ingredients
Optional information: expiry date, additional precautions, etc.
Printing and applying labels on cannabis products
Now that you're aware of the regulations pertaining to labelling your cannabis-derived products, you need to find out how to obtain these labels. That's where we come in. IMS will provide you with the solutions tailored to the size of your company, your production capacity, and your budget.
Newly formed businesses with small print runs
Have you just launched your start-up and don't know how much demand you'll have to meet? Is your production capacity limited? Is your budget on the small side?
Solution
: IMS will obtain the materials so you can print and apply your labels in your own facilities. Our team will provide blank labels along with the printer, colour ink cartridges, and labelling software. You'll be able to manage every step of your labelling project in line with your budget.
Ask for a quote today.
Benefits
: You'll be able to independently oversee your labelling project without ever having to deal with delays from suppliers. Moreover, you can test out different designs before printing begins and you'll be able to print the exact number of labels you need. That means no surplus inventory and no waste. In other words, it's an easy way to respect your budget.
Expanding companies with medium print runs
Is your company a few years old and experiencing rapid growth? Do you need to adapt your labelling capacities to meet an increased demand?
Solution: IMS will provide part of the material you need: pre-filled labels with the required information (official labels specifically designed for cannabis products), thermal printer, ink ribbons, and labelling software. You'll only need to print variable data (logo, ingredients, weight…) on a standardized label and apply it to your product. Ask for a quote today.
Benefits: You don't need to worry about your labels complying with regulations because we'll take care of that for you. You can use standardized labels for your various products and only change the variable data. That way, you'll avoid waste, boost your company's flexibility, and limit your costs.
Established businesses with large print runs
Is your company a big name in the cannabis industry? Are you expecting high demand? Do you have high production capacities?
Solution
: IMS takes care of it all! Simply send us the design of your label and we'll use flexographic printing presses to produce them in our facilities located in Saint-Laurent. We'll then deliver your labels to your location in Quebec, Ontario, or elsewhere in Canada.
Ask for a quote today.
Benefits: You can print large quantities of flexographic labels to meet your high demand. Partnering with IMS means you won't ever have to worry about your labelling projects and can instead focus on other projects.
Advisory services and support for labelling cannabis products
When it comes to the highly regulated cannabis sector, no company can afford mistakes when packaging their products. For more than 60 years, IMS has kept up with new laws to support their clients' labelling and packaging projects, no matter the industry. Our team can even help you design a label for your cannabis-derived product, whether you need a digital label you can print yourself of a flexographic label produced by a third party. We'll carefully help you select the label, paper, ink, and glue… Nothing will be left to chance. We can also provide personalized equipment tailored to your production facilities. We'll help you integrate automated solutions into your production chain with automatic or semi-automatic printers and printer applicators.
Get in touch with our experts
who will provide the support you need for labelling your cannabis-derived products!