The cold chain has to deal with a major logistical challenge in finding a labelling solution that can withstand cold, frost, humidity and temperature changes.
The requirements are numerous and do not only affect companies with chilled or frozen food products. A wide range of industries are affected: food, beverages, pharmaceuticals, cosmetics, chemicals, metallurgy, construction and many others.
Want to know more about labels for low temperatures? In this article, we explain the essentials for a cold-resistant label, the risks of a bad label, and we will give you the keys to choosing the right one for your project!
What are the essentials of a label for the cold chain?
The labelling of your products for the cold chain has to meet several requirements:
Freezing: labels should not become stiff and peel off the product during freezing.
Moisture: the adhesive must be of good quality so that the labels adhere to the products, even in damp and condensed conditions. Labels should not peel when wet and inks should not run.
Temperature changes: labels and adhesives must be able to withstand temperature changes and variations. For example, when defrosting a food product in the microwave.
Safe: In the food industry, the adhesive must not be harmful to the food or to the health of the consumer.
Scratch resistant: they must be able to withstand scratches, scuffs and bumps during transport.
Durability: labels must remain intact to the effects of cold over a long period of time.
Industry standards: labels must meet your industry-specific standards for the cold chain.
What are the costs and risks of a bad label?
If your labels comply with all the above conditions, you avoid the risk of damaged, peeling or unreadable labels, and therefore many additional costs:
Product re-routing at the labelling site
New label materials, inks and adhesives
Time and labour force to reprint and apply the label
Exceeding deadlines for shipping, delivery, etc.
Potential loss of opportunity and sale
Loss of product or logistical mishandling if the label has fallen off
Brand image damage and long-term consequences
Which labels to choose for the cold chain ?
Synthetic self-adhesive labels with acrylic adhesive
Synthetic self-adhesive labels are suitable for the cold chain and all its consequences. Polypropylene and polyester are two materials often used.
The choice of label depends on the conditions of transport and storage of the product to the final consumer. For example, if your label is applied at room temperature and needs 24-48 hours to adhere to the product, then a label with standard acrylic glue that can withstand a minimum operating temperature of -40 C° will be suitable.
However, if the label is applied at room temperature and the product is immediately chilled, an all-temperature acrylic adhesive (minimum application temperature of -29 C°) may work.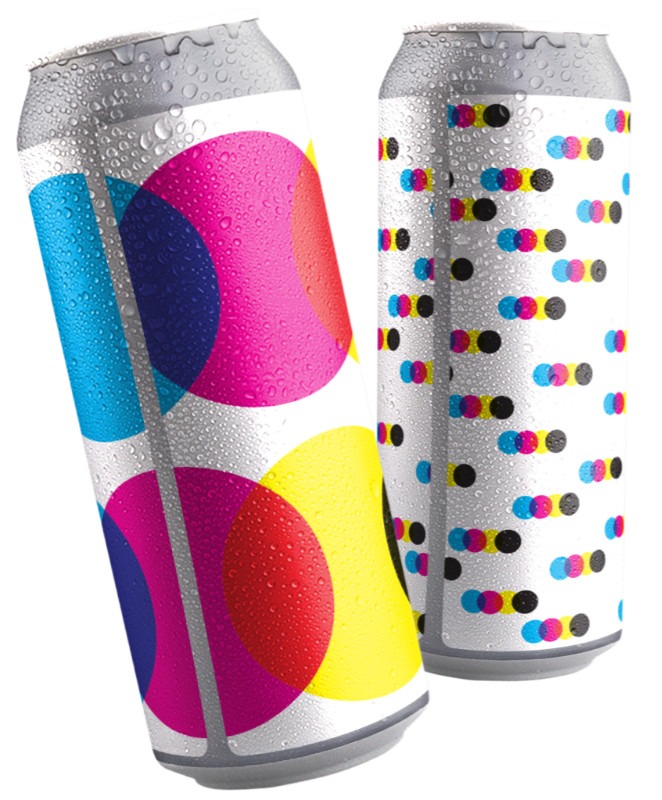 Otherwise, if the product is already frozen or the surface is more difficult to adhere to, it will be necessary to purchase another type of label, a "cold tack" label, which has a high level of stickiness and adhesion.
Whatever your products, it is not advisable to use paper labels, which are sensitive to humidity and temperature changes. Condensation that forms when a product is thawed can cause the label to peel or fold. Even a laminated paper label can be subject to this type of damage.
Hot melt adhesive labels
Labels with hot melt (or hot glue) adhesives are also suitable for the cold chain sector. They have the advantage of being reliable and secure.
This rubber-based adhesive has a very high adhesive strength, contains no solvents and easily withstands cold temperatures. As a result, the labels have good adhesion properties to almost any plastic or glass surface, without affecting the aesthetics of the container.
In recent years, some manufacturers have developed hybrid adhesives that are a combination of hot melt and acrylic. They are suitable when the specifications of the industry in question are met.
Shrink sleeves
Due to their application technique (shrinking on often irregular surfaces) and the robustness of the materials used, shrink sleeves are not affected by low temperatures or humidity.
Materials such as PETG and OPS are very suitable for the cold chain. The printing is usually done on the substrate and therefore the design and information printed on the sleeve cannot be damaged by frost or scratches.
Advice on labelling and identification solutions
If you are ready to market a product in the cold chain and need a labelling solution, we can help!
Our expertise in printing solutions allows us to answer all your questions:
Which materials are most resistant to extreme conditions?
Which label types and formats are suitable for your product?
At what stage of your production line should your label or sleeve be applied?
How should the label be applied? At room temperature or cold in your cold store?
We have over 50 years of expertise in product identification! Contact us to discuss your project.