Labels play a key role in grabbing the attention of potential customers. With all the options available, it can be hard to choose the right type. After all, labels can be printed in black and white or in colour, straightforward or more complex, certified or not, and intended for primary, secondary, or tertiary packaging. With that in mind, which printing solution should you pick? Each one comes with its own advantages and unique attributes. To help you make the choice that's right for your organization, here are the 4 most common types of labels used on products.
The 4 main types of brand labels
Flexographic labels
IMS delivers high-quality flexographic printing solutions thanks to its cutting-edge equipment and team of experts. With this process, the ink is deposited onto a raised section of a flexible photopolymer plate which then transfers the image onto the material.
What are the benefits of flexographic labels?
Labels can be customized to your exact specifications: format, colours, finishes (matte, gloss, semi-gloss), material (paper, corrugated cardboard, synthetic, cloth, etc.), repositionable or permanent adhesive, inks…
Labels can withstand extreme conditions: labels and glue tested for cold, ice, humidity, and heat…
This process produces durable labels.
You can print labels that comply with Recyc-Québec's 2021 standards.
Digital labels
Digital label printing, also known as web-to-print or direct-to-press, is when a computer transmits the digital data to the printer which then prints the labels onto rolls. No printing plates are required with this technique.
What are the benefits of digital labels?
This is a technique that is ideal for small volume runs.
You can easily modify the digital file before each print run.
Because there are no plates, the cost of printing is significantly lower than with flexographic labels.
Printing can easily be done internally.
Thermal labels
Two techniques can be used to print thermal labels. The first is called thermal transfer. This involves transferring heat onto an ink ribbon which then melts onto the material.
The second technique involves applying the heat directly onto the label. Upon contact with the heat, a chemical reaction occurs where the heated areas turn from white to black.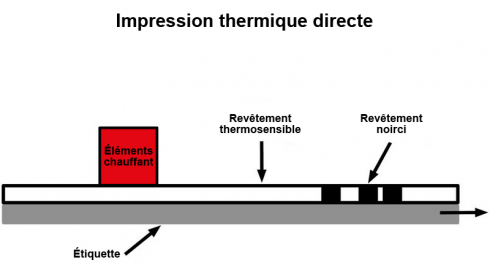 Source : https://www.webermarking.fr/blog/impression-transfert-thermique-vs-thermique-directe/.
What are the benefits of thermal labels?
This type of printing is perfect for small, medium, and large print runs.
It's practical for variable data printing such as ID labels and shipping labels which may include barcodes and batch numbers.
The lifespan of the labels depends on the technologies chosen. Thermal transfer results in very robust labels whereas the direct thermal process produces standard labels that are a bit more delicate.
Can be done internally.
Inkjet labels
With inkjet labels, a computer is used to shoot droplets of ink from the printhead to the material. There is no direct contact between the printhead and the material itself.
What are the benefits of inkjet labels?
This technique is used to obtain high-quality colour results. Perfect for printing images, letters, and drawings.
Suited to small print runs because it does not require a minimum quantity.
Because of their size and how easy they are to use, inkjet printers are ideal for printing internally.
You can print labels of any shape or colour with inkjet printers.
Which printing solution is suited to your labels?
No matter the project, there's a label for you!
| | Flexography | Digital | Thermal transfer | Inkjet |
| --- | --- | --- | --- | --- |
| | | | | |
| | | | | |
| | | | | |
| Flexibility (size, materials) | | | | |
| | | | | |
| | | | | |
| | | | | |
2 other printing solutions you can consider
CSA/UL labels
Thanks to our cutting-edge equipment and materials, IMS has been certified by the CSA Group and Underwriters Laboratories to produce CSA and UL-compliant labels. We can provide:
Labels that are specifically designed for specific uses and extreme conditions, as required by products that are certified CSA and UL
The equipment to help your organization print these labels internally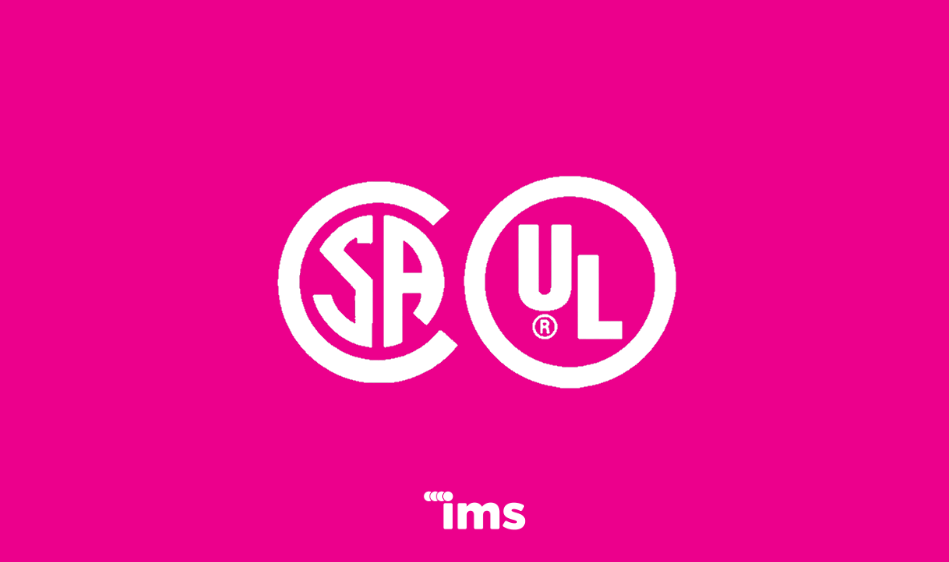 Shrink sleeves
Shrink sleeves are by far IMS's speciality They're specifically designed to help your products stand out on store shelves. Our printing solutions can be adapted to containers of any shape or size. Shrink sleeves will boost the visual impact of your products thanks to vibrant colours and impressive application flexibility.
Learn more about our shrink sleeves
At IMS, we offer turnkey services and can help your company develop its own printing solutions (barcode or colour labels). We look forward to hearing about your labelling projects!
Get in touch with an expert