Are you in the process of designing labels for your products? Did you know that 93% of buyers focus on visual appearance1 when making a purchasing decision? Beverages, food items, nutraceuticals, household cleaning products, cosmetics… It can be hard for a product to stand out in these industries. Whether your product features a shrink sleeve or a self-adhesive label, it needs an effective identification. Why? Because the right visual appeal will grab a consumer's attention and make them pick your product instead of one made by your competitor. In addition to your logo and visuals that reflect your brand and the image you want to convey, colours also have a psychological effect on consumers. In fact, 85% of buyers claim colour to be the primary reason for why they purchase a product1. Read on to find out which colour you should pick to generate the behaviour you want.
What colours mean for your packaging
Choose a colour according to the emotion it conveys
Colours have a huge psychological impact on our daily lives and even affect our moods and the decisions we make. Here's an overview of what a few popular colours represent and how they could impact your design.
Red: a vibrant colour that grabs attention and creates a sense of urgency. Red conveys energy, bravery, power, passion. It also stimulates appetites which is good to know for food and beverage industries! On the other hand, red is one of the most popular colours when it comes to packages. That means your product might blend in with the myriad other products that feature this colour.
Orange: a colour that communicates playfulness, sociability, and adventure. In other words, it's all about fun! But also bear in mind that it is sometimes associated with low-cost products.
Yellow: the colour of the sun represents joy, optimism, positivity, and warmth. It also expresses rest and relaxation. It's a bright colour that instantly grabs the consumer's eye. But it must be used sparsely if you don't want to create an overly aggressive effect.
Green: this colour equals nature, freshness, tranquility, security. Green is perfect for products that want to promote their environmental or health qualities. It also symbolizes renewal and growth.
Blue: this is the most widely used colour in packaging and for good reason! It represents trust for the consumer as well as calmness, success, stability, loyalty… It's also the colour of open-mindedness and stimulates productivity. However, blue doesn't grab the eye as much as other hues.
Purple: a colour that evokes creativity, mystery, and the imaginary. It is often used on labels for high-end products or ones that showcase symbols of royalty. In other words, purple is used to convey luxury.
Pink: this colour is often chosen for feminine products because it suggests finesse, sensitivity, and compassion. It also is used to vehiculate fun, making it a popular choice for kids' games and products.
White: symbolizes peace, serenity, innocence, and neutrality. White is used to soothe and express purity and softness – which makes it a popular choice for laundry products for instance. It is often paired with another colour.
Black: represents discipline, power, and protection. Luxury brands often use black for its elegance and austerity. It is also often paired with other colours.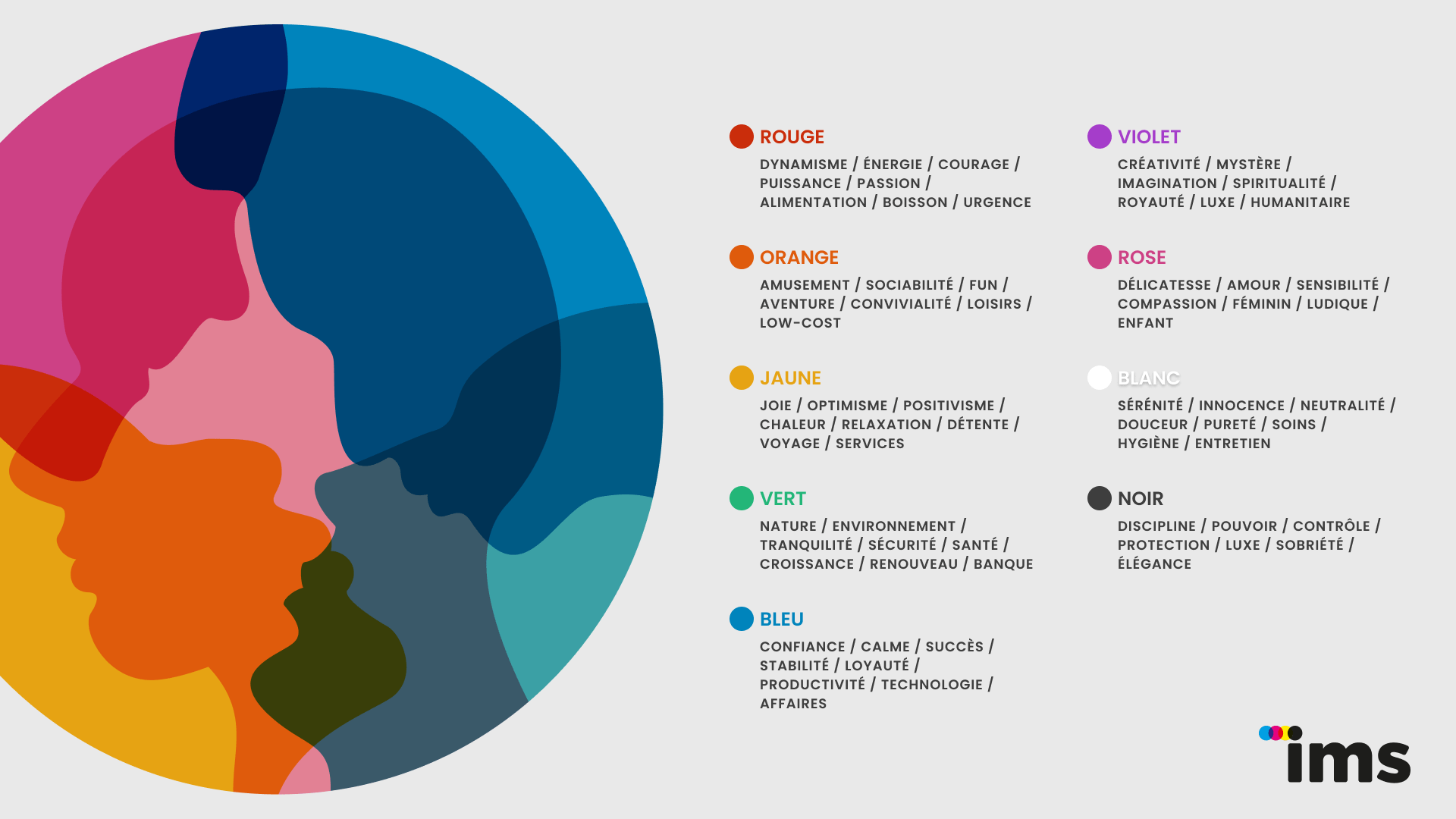 Choosing a colour according to an ingredient, season, or location
While the psychology of colours is important, there are cases when you should disregard what emotions they represent. Consumers instinctively seek out products featuring colours that mean something to them, that is to say colours that are associated with the characteristics of the product. With this in mind, your label or shrink sleeve can be designed to highlight:
An ingredient: white for dairy products, red for products made with cranberries, yellow for oil, etc.
A season: green and yellow for springtime, white and grey for winter, etc.
A location or origin: royal blue for products made in Quebec, warm colours for Asian products, etc.
Consult an expert for your labels
You've picked the colours you want to use to convey your message and evoke the right emotions. But how do you ensure your product will have a maximum impact on store shelves? At IMS, our team of experts will guide you to the best choices, to ensure that the colours of your label or shrink sleeve showcase your product and meet your high expectations. Printing techniques, number of colours, inks, materials, composition, finishes, films… We'll provide tailored support to efficiently optimize your product packaging!
Contact our team
Sources:
1
https://www.olybop.fr/quelle-est-la-signification-des-couleurs-dans-les-logos/
The Psychology of Colors in Marketing – Part 1
Design produit : quelle couleur de packaging fonctionne ?